Accommodation in the apartment Pelješac Orsula is located right next to the sea and the beach in Croatia, which is only 40 meters away. Its offer will satisfy all guests who want a peaceful and quality vacation. The beach is not that full, even in season. It is very suitable for a family with children. The natural beach is such that it is protected from the wind that often blows in the summer, so there are no big waves.
The accommodation consists of: an apartment on the ground floor for 4 people with a large terrace, an apartment for 4 to 7 people on the first floor with a terrace and a balcony, and an apartment for 2 people on the ground floor with a garden and a terrace. Apartments Pelješac Orsula offer ideal accommodation for 13 people in 3 separate apartments.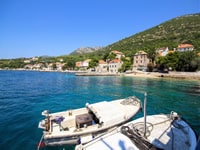 Location of Kučište
Kuciste is located on the Peljesac peninsula and opposite the island and the town of Korcula. Due to the position of the facing islands of Korčula and Pelješac, it is like a funnel, so maestros are frequent, and the area is extremely popular for windsurfing and kitesurfing.
Kučište has clean pebble beaches pogoed for swimming and scuba diving. So except for those who like to be active and on vacation, the place is an ideal destination for families with children. And that beach is not so full, even in season. This beach is protected by its natural position from the wind that often blows in summer so there are no big waves.
The position of the island of Korcula is opposite the beach, and it will provide you with security as if you were in your big bathtub.
Village Kučište
The village of old captains and fishermen, which now has about 100 inhabitants, has become an interesting tourist destination, due to the peace of clean sea and pebble beach, the nearest beach which is just below the apartment can hear the sound of the sea from the terrace.
In Kučište you can find the old captain's house by the sea, numerous trains (small ports for boats) made of stone, large columns of stone that were used to moor large old sailing ships, and there are baroque monuments: the church of St. Anne, St. Lovrinc, the cemetery of St. Luke and the church of St. Holy Trinity, which dates from the 16th century and is one of the most beautiful Baroque monuments in Dalmatia. It's worth a visit.
From the apartment to the centre Kuciste has a 3-minute walk (80 m) there is a cafe with the restaurant: 09-24 h, a grocery store: 7-21 h, to the boat dock is (40 m) to which sailors can moor, and also the boat goes 3 times a day to the town of Korcula.
Spend your vacation with us in Kučište and welcome to us.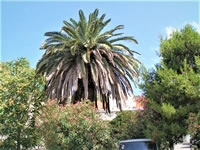 Post