is located in the south of Croatia in the Dubrovnik-Neretva County. Peljesac is the second largest peninsula in Croatia (Istria is the largest). Peljesac is an attractive tourist destination because of the clear sea and beautiful beaches. It is rich in cultural monuments and the nature of the Mediterranean. This Mediterranean climate is perfect for growing vines and premium wines which is why it is well known.
Peljesac is halfway between two Adriatic pearls, so it is easy to make a trip to Split or Dubrovnik along the way. And the Pelješac Channel is ideal for sailing, windsurfing, kite surfing, and enjoying other void sports.
Famous fish are sea bream, sea bass and you can find other fish, such as mussels, oysters and crabs.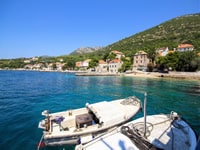 Accommodation Orsula on Peljesac is by the sea and the beach which is only 40 meters. With its offer, it will satisfy all its visitors who want a peaceful and quality vacation. It consists of: ground floor apartment for 4 people, upstairs apartment for 4 to 7 people and apartment for 2 people on the ground floor. Apartments Peljesac Orsula has ideal accommodation for 13 people in 3 separate apartments. On the large terrace there is a solar shower that will refresh you on warm days.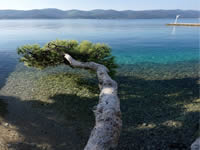 Kučište is located on the Pelješac peninsula and overlooks the island of Korčula. Due to the position of the islands of Korcula and Peljesac, which are opposite to each other, maestrals and tramontanas are frequent, so this area is extremely popular for wind surfing and kitesurfing. The housing is adorned with pebble beaches and clear sea. Apart from those who like to be active on vacation, the place is an ideal destination for families with children.
Explore the rest of Peljesac and go on a trip to the island of Korcula, Mljet National Park.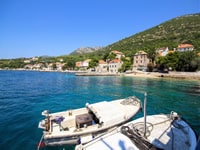 The village of the old captains, which now has about 160 inhabitants, has become an interesting tourist destination. The sea on Peljesac is clean, and the beaches are mostly pebble, and you can also find sandy beaches that are suitable for sunbathing, for children and adults. The nearest beach to Kučišt is special because of its natural position which is protected from the wind "mastrala" and in summer it often blows so there are no big waves.
In Kučište you can find old captain's houses, stone columns that served as berths for large sailing ships, and there are baroque monuments: the church of St. Anne, st. Lovrinc, the cemetery of St. Luke and the church of St. Holy Trinity which is from the 16th century and is among the most beautiful Baroque monuments in Dalmatia. It's worth a visit.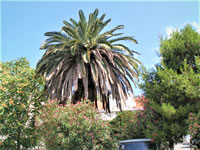 We have a place for surfing equipment, bikes and the like. Next to the building are green areas with an orange, lemon and olive tree. Each apartment has its own terrace with table and chairs, outdoor shower is located on the ground floor and can be used by all guests. There is also a summer kitchen which contains: fridge with freezer, dishes, combination cooker, dishwasher. You can prepare a delicious summer feast on the portable grill.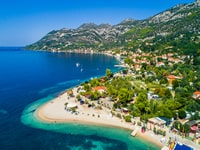 Taste quality local Peljesac wines on a large terrace overlooking the sea and the island of Korcula (Peljesac Channel), relax your mind and body with a selection of fresh sea fish that will contribute to the overall impression of our Dalmatian island.
Our beach is not so full, even in season. It is very suitable for families with children. This beach is protected by its natural position from the wind that often blows in summer so there are no big waves.
The position of the island of Korcula is opposite the beach, and it will provide you with security as if you were in your big bathtub.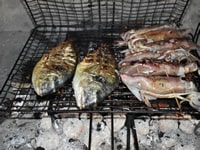 The parents built a house intended for living, and as tourists found the Peljesac peninsula, they started renting it out in the household. As a sailor, after many boat trips around the world in search of "treasure", I came to the realization that the greatest treasure is the place Kučište. In order to share the natural phenomenon of the Peljesac peninsula, the renovation of the Apartments Orsula facility has begun.
Every year we strive to improve, innovate and always be one step ahead of your expectations, so we have been doing this for over 25 years.