Accommodation near sea on Peljesac
on Peljesais by the sea and the beach which is only 40 meters. With its offer, it will satisfy all its visitors who want a peaceful and quality vacation. It consists of: ground floor apartment for 4 people, upstairs apartment for 4 to 7 people and apartment for 2 people on the ground floor. Peljesac accommodation is ideal for 13 people in 3 separate apartments. On the large terrace there is a solar shower that will refresh you on warm days.
they are located on the south side of the Pelješac peninsula in Kučište. Due to its natural position, the winds on the Pelješac Channel are ideal for sailing, windsurfing, kite surfing, and you can also enjoy other water sports. Apartments Peljesac is a newly built facility in an ideal location near the sea and the beach.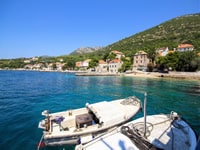 are located halfway between two Adriatic pearls, Split and Dubrovnik. Pelješac is the second largest peninsula in Croatia and has a great Mediterranean climate, which is why it is perfect for growing vines and premium wines. Clear sea, which is why Pelješac is an attractive tourist destination, with its rich nature. Among numerous species of crustaceans, fish, shellfish and oysters are well known for Pelješac.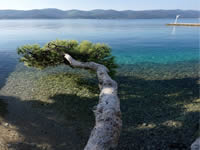 Peljesac will contribute to the overall impression of the Dalmatian island. The beaches are ideal for families with children.
Taste quality local Pelješac wines on a large terrace overlooking the sea and the island of Korčula (Pelješac Channel), relax your mind and body with a selection of sea fish.